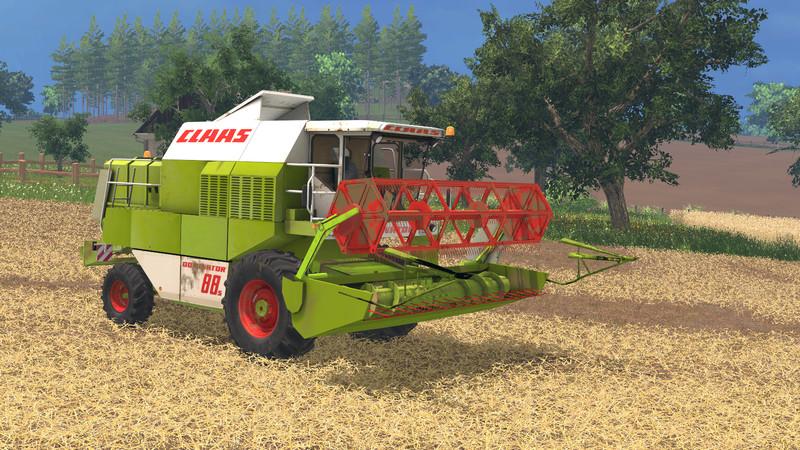 Es ist nun endlich soweit! Der Dominator 88s 'Advanced' steht nun zum Download bereit.
Version 1.1.1
– MP compatibility
The alternative link are the updated scripts, put them in the scripts folder if you already have v1.1
Funktionen:
realitätsnahes, unsyncronisiertes Hydrostatikgetriebe mit 3 Vorwärts und 1 Rückwärtsgang
manuelle Motordrehzahlsteuerung, es gibt drei Stufen: Standgas – Halbgas – Vollgas
Beifahrerscript
Leiter und Tür sind animiert
Kennzeichenmod verbaut
manuelle Schneidwerkshöhensteuerung
aktuelle Auslastung mit Auswirkung auf Ertrag
ab 90% sinkt die Dreschqualität -> geringerer Ertrag
bei 100% Auslastung verstopft der Schrägförderer
ab 95% beginnt es zu piepen (piept auch weiter wenn verstopft!)
viele neue, realistische Sounds (Auch Indoorsound!)
C420: Geschwindigkeit der Haspel und "Einzugswalze" passen sich der aktuellen Motordrehzahl an
C420: animierte Messer (auch auf dem Rapsvorsatz)
Paket-Inhalt:
Claas Dominator 88s
Claas C420
Claas Schneidwerkswagen (umgebauter TAM Leguan)
4-reihiger Maispflücker
Ein paar Worte des Modders:
Einige werden sich denken "Warum steht da Advanced?". Ganz einfach: Die Steuerung des Dreschers ist gegenüber den Standard-Dreschern, aber auch den meisten Moddreschern, viel komplexer. Ich empfehle, vor Inbetriebnahme die Tastenbelegungen.pdf durchzulesen.
Installation des Mods:
Die heruntergeladene UNZIP_ClaasDominator88s.rar beinhaltet zwei ZIP-Dateien und die vorhin genannte PDF-Datei. Die zwei ZIP-Dateien in den Modordner kopieren und die PDF durchlesen (Keine Angst, ist nicht viel!).
Ich wünsche nun viel Spaß und eine erfolgreiche Ernte.
Authors:
Model: Pavson69
Conversion to FS 15: SIID
Conversion cutter to FS 15: lookee86
Amendments in the model Header: GoldFox
New Scripts, Sounds, etc.: Rival
Maize cutter: modall