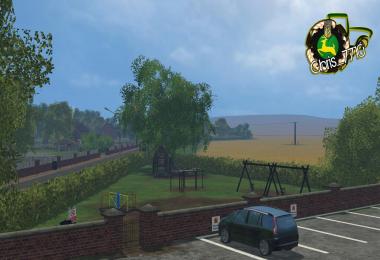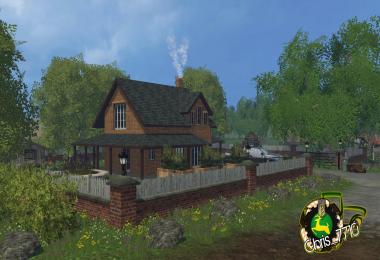 Drayton Farm is a large British arable farm.
Info –
● Arable farming.
● Forestry.
● 1 Yard.
● 8 large arable fields.
● Sell point.
● Farm dealership.
● Stables.
● Lots of start vehicles.
● Auto opening gates.
● Village.
Triggers –
● Wheat, Barley and OSR to be stored in the grain sheds at the back of the yard.
● Sugarbeet is stored at the far side of the yard, Potatoes are stored in the brick building in the yard.
● Wood chippings can be stored in the large grey barn at the front of the yard.
● All crops can be loaded into a trailer with a bucket from the store points.
● Grain can also be loaded from the silo at the side of the sheds and root crops have there own loading conveyors.
● Fertiliser, Spray, Seed and fuel triggers are in the centre of the yard.
● Sell equipment inside the shed at the farm dealership.
● Sell bales at woodlands view stables, Drop them around the stack of bales in the horse yard.
● Sell all grain and wood chippings at the sell point in the farm dealership.
● Sell logs at the sell point in front of the shed in the farm dealership.
● At the farm dealership there are 2 shop icons, one is for the main farm shop and the other is used to purchase pallets of trees for planting.
● Vehicles reset the farm yard.
Please Note –
I create maps to suit my own personal preference. Personally i prefer large scale arable farming, All fields to be owned and lots of start equipment. This may not suit a lot of people but it's what i prefer.
You must NOT edit this map and upload it to any website or file hosting site.
This map is for FS-UK ONLY.
KEEP ORIGINAL LINK
DO NOT UPLOAD TO OTHER WEBSITES WITHOUT PERMISSION
Original beibehalten Link
Nicht auf andere Websites hochladen ohne Genehmigung
Zachowaj oryginalny link!
Nie wysyłaj do innych stron bez zgody!
Thank you for downloading Drayton Farm.
Authors:
Map –
Chris_7710
Facebook
Youtube
Other –
SteveC
NI Modding
EuroDzn
Fatian
Petorious
Sotillo
sandgroper