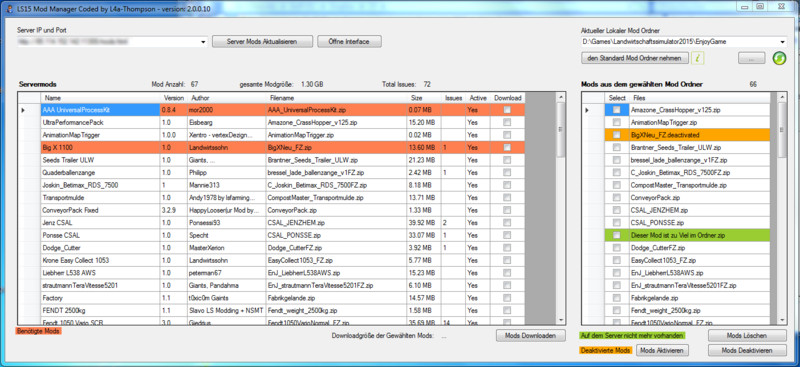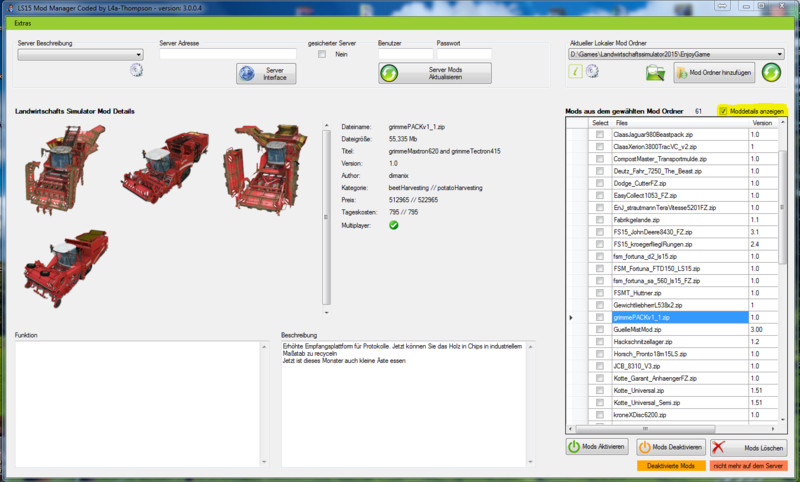 Hello everyone,
This tool is intended solely for the multiplayer mod for balance between client and server.
Thanks to Krassmann for this kruze but apt description of my tool: o)
Carry on the gear under Server description of your server information and you can then easily select them from the combo box.
It shows Contrasting to whether a mod is missing, it disables or even too much in modfolder is because he has already been deleted on the server.
Attention important:
Simultaneous downloading of multiple mod is not yet possible. It is only the mod is downloaded which Highlighted in the left table. The tick in the download column are thus still does not function.
This is still a beta, even though I've tested the tool enough, I assume no liability for your data.
How this tool works?
It writes the selected mod folder in the file
C: \ Users \ Thompson \ Documents \ My Games \ FarmingSimulator2015 \ gameSettings.xml
and change the following values ??in the below line. "Activ" is set to True and "directory" is assigned to the mod folder path
The server mods are read from the HTML page. Since all the mods in a kind of table Standing, I just read from the table on the HTML page.
Important – the server address
Example: http://12.345.678.901:11300/mods.html
it may be nothing before the "http" and ".html" must be the last, since no address validation is installed.
That's it for now.
I wish you much fun with it.
Authors:
EnJoy-Game