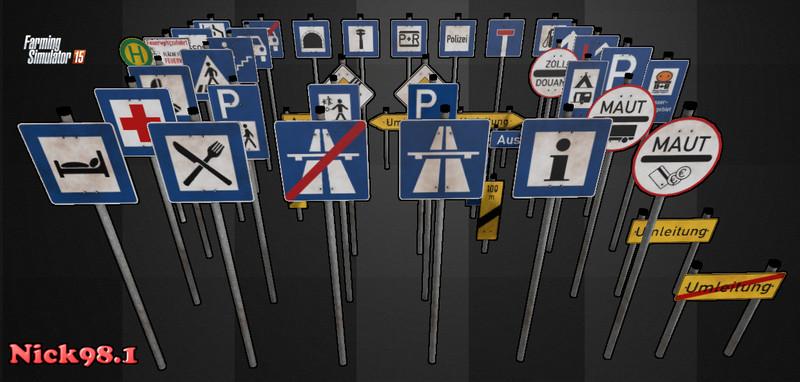 This here is the road signs Pack V3.3 that from 336 danger signs, directional signs, regulatory signs, traffic facilities, Faltschilder and additional mark consists of the German Road Traffic Regulations. A peculiarity of the signs is that they are not navigable.
CHANGELOG:
V3.0:
new models
new textures
larger signs selection
Signs for himself label (located in the folder "own"!)
Signs are be bypassed
V3.1
Added Forestry signs / flat plate
Signs are performance-friendly
minor bugs
V3.2:
changed galvanized texture of the Post / Clamps
exchanged traffic cone
Faltschilder and added another
eliminates minor bugs and made improvements / changes
V3.3:
LS15 ready
Content:
37 Hazard Signs
76 warning signs
48 directional signs
10 transport facilities
Additional 113 characters
37 label directions for itself
5 Signs Forestry
10 Faltschilder
26 Other components
Readme
CREDITS:
Nick98.1
other:
The font for engraving the plates DIN 1451 is Mittelschrift (Example Download: here) is recommended.
The .psd / .pdn files have to be downloaded separately.
Who imported and placed the plates has directly and then wants to use "Play" function in the GE, the map must first New only re-open so that the signs remain.
Examples of Inappropriate Additional characters: here
These signs were last saved with the Giants editor 6.0.2.
If you want to convert a LS13 map in the LS15 and signs the V3.0 / V3.1 are / V3.2 placed on the map and you will not want to put New with V3.3, you have to change breakable joint and the exchanged textures , How must change breakable joint, their experiences here.
RECHTE:
!Rechte!
1) This work may not be new uploaded. (whether modified or not)
2) This work may only be offered with the original download link and the permission of the Urmodders on other sites.
3) Please call the Urmodder in the credits.
Authors:
Nick98.1