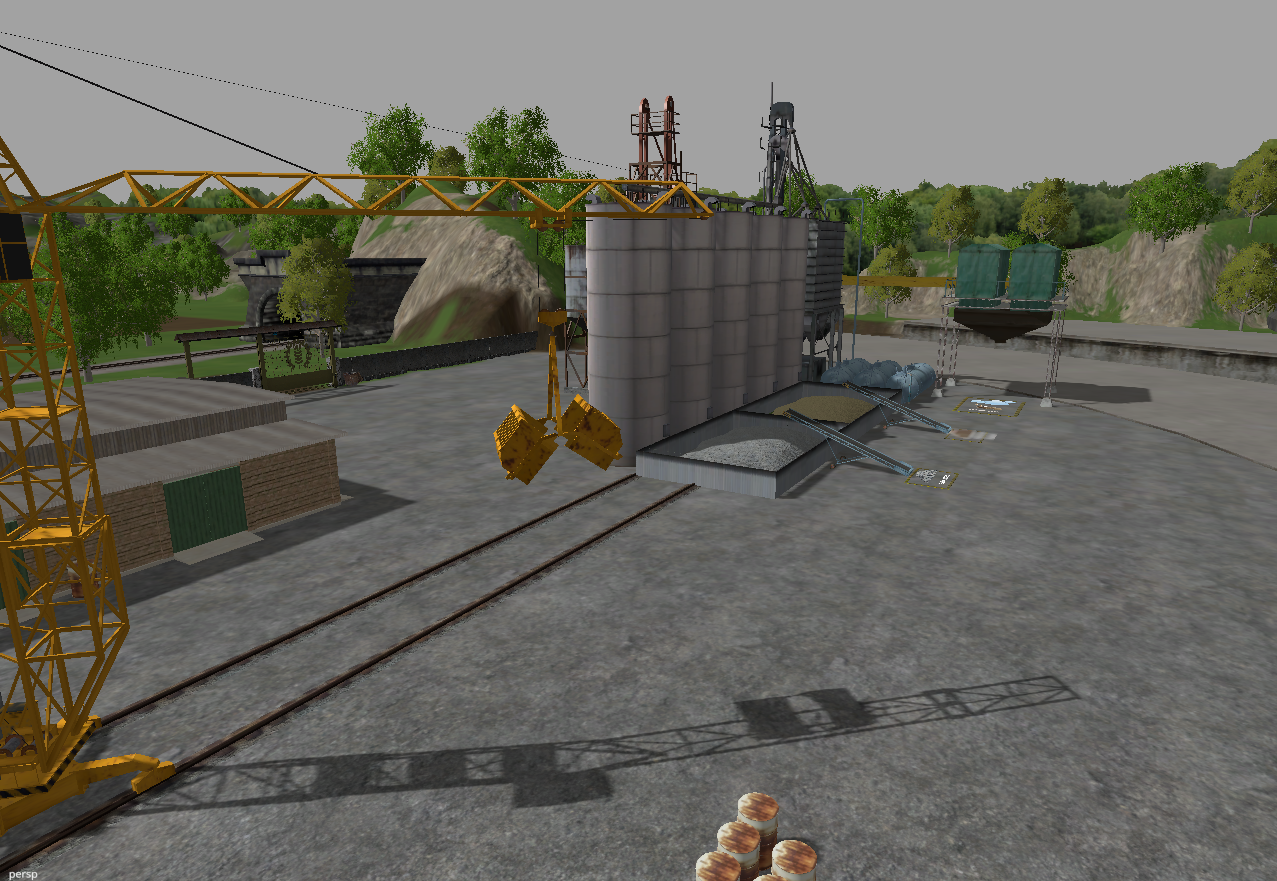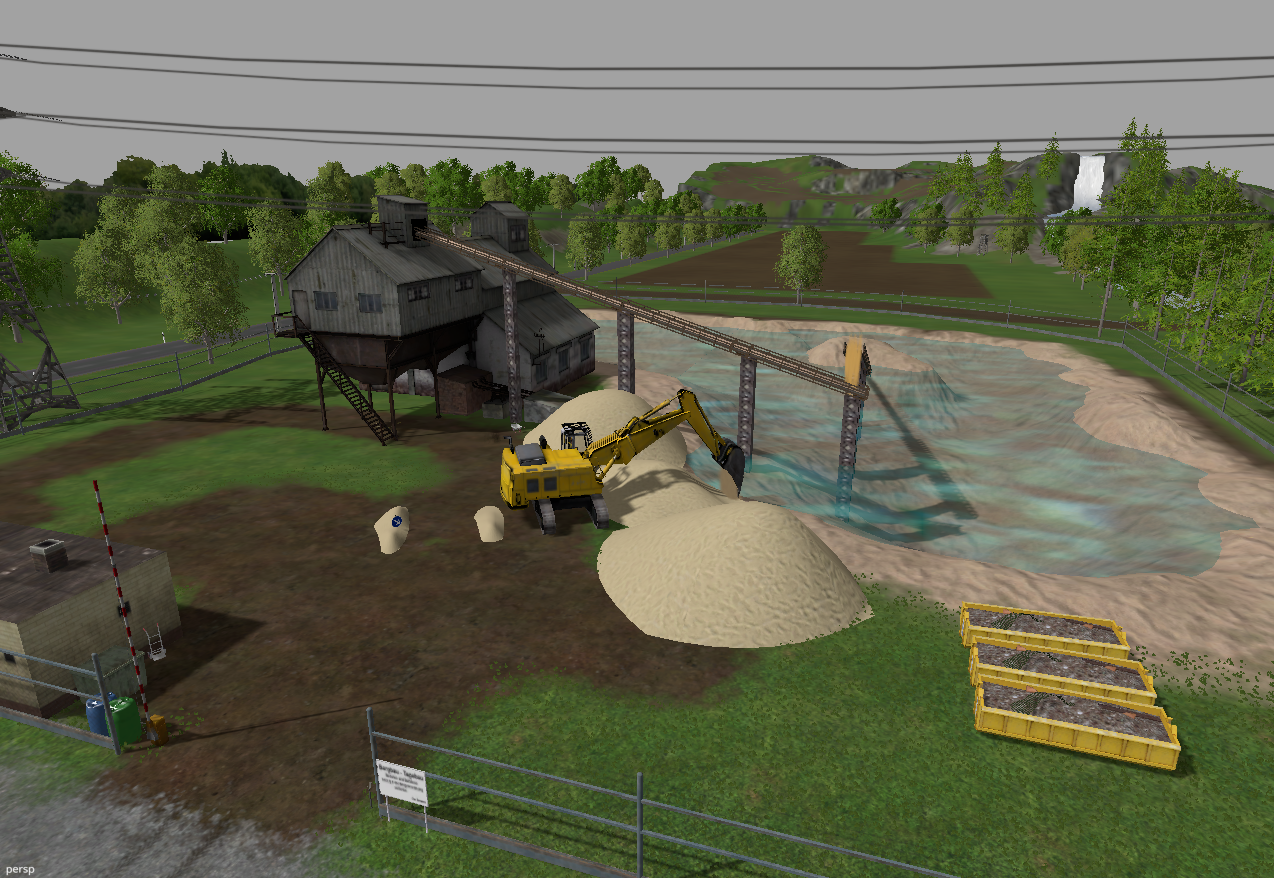 Descriptions:
Suedhemmern v 6.0 beta
Fabrica de beton & ciment
1.Nisip ( in vale)
2.Pietre ( in munti)
3.Ciment ( fabrica )
4.Beton ( in Port)
5.Magazin de vandut ( in Port)
6.Garaj mai mare la Vaci si Porci
7.Reparat podul
8.Reparat burueni mari
9.Adaugat intrare lateral la Port
10.Reparat pata de poduri
O sa trebuie sa adaugam apa, nisip, pietre si o sa produca ciment. Dupa ce a fost produs, fabrica o sa produca beton, adica productul final.
Attentie: Trebuie sa adaugam modurile urmatorare:
AAA_UniversalProcessKit
Brantner_CEMEX
Liebherr_CEMEX
WaterMilkZunhammer
MapFruitTrigger
Instructiuni in fila zip
-catfishsteve,vaha,kwfarmer
5.0
Were installed:
Standard fruits and fillType sand
Animals: cows, sheep and chickens
Mixer hall based on the location of feed mixing Marhu (approval pending)
Pig (Marhu)
Cattle fattening (Marhu)
WaterMod (Marhu)
Wool Palette collector (Marhu)
Digital displays (the Silobändern in small and at the court in the overview)
Lining layers of Frisco177
Silobänder
BGA Manuuu (with minor modifications because of the conversion)
BGA from the LS 2015 from Giants
Brewery and bakery GE mapping (currently WITHOUT function)
Prepared slurry manure-lime-Mod
Manure storage on the map distributed (see description below)
Manure storage on the map distributed (see description below)
Supply barns on the map distributed (see description below)
Sandkuhle with sand-purchase trigger; Sale opportunity in port (fast make money)
Biomass heating power plant from the LS 2015 from Giants
Sawmill from the LS 2015 from Giants
Wooden train and grain train from the LS 2015 from Giants
Shipping
Another trains
AI traffic: cars and pedestrians
Slurry and manure sale (port, garden centers, freight station)
Sold at:
Eimo AG * Garden * Country Trade Center Hille * * Landi freight station * Port * Spinning * distillery
Edekamarkt Forest Hotel * * * Horseback riding * industrial plant slaughterhouse * restaurant * Tavern * Butcher
Mill * 2 BGA
CB 15 there is the sawmill, the biomass cogeneration plant and grain train on the second train station.
The PDA Map and PDA symbols are matched. There are 50 boxes in various sizes (2 ha to 10 ha) and two large meadows for grass and hay.
Special features:
Outlets for straw / hay / grass at Landi, country store eimo at high prices (for players who need quick money). Who does not like it, do not sell them.
There are several barns on the map that the ship unloaded grass / hay / straw into the camp of the cow pasture (even at the eimo AG):
The unloading of the hamlet and the cow pasture ship the fruit in the respective Hofsilos.
On the Map manure storage and manure piles are installed, may be exposed to liquid and solid manure taken to spending on the fields. The level is shown on the digital display. To fill the dung heap in front of the Kuhmisthaufen the cow pasture a CRAP BEAMER. If there is tipped with a wheel loader crap, he lander on the various Mista hooves.
To fill up the manure storage is available at the cow pasture and on both a BGA MANURE BEAMER. If there slurry is delivered, it ends up in manure storage and can be anywhere on the map again be removed.
At the cow pasture, there are outlets for cereals and potatoes / beet (fodder for fattening plants).
I hope I have said it all.
For me, the Map Login error-free.
I ask you to respect the work to the map and do not offer these without consent from me in other portals.
I wish all the the map like a lot of fun playing. Everyone else may also be deleted.
Many greetings
Mc Gregor Wolf
Authors:
Authors:
Fabrica debeton GE =catfishsteve,vaha
Fabrica deciment GE=catfishsteve,vaha
Hühnermast = Farmer_Andy
Rübenschneider = Marhu, Funky
multiFruitModul = upsidedown
Zaun = Fendtfan1
Hotel = BobMaster 66
Schwäbisches Bauernhaus =KundS-Modding
Holzsilos = vanillaice83
BayWaHändler = KundSmodding
Gartenzaun = Trixi
Traktorhalle = Richi*3
Mauern = Diops33
Wohnhaus = Richi*3
Maschendrahtzaun = GE-Mapping
Eckscheune = Richi*3
Windmühle = Spider 100
Durchfahrtscheune = Richi*3
Gehwegeset = Frank Wienberg
Schilderpack = Nick 98.1
Fachwerkscheune = Rauschebart
Schilderset = Hirntot 2.0
Straßenbaukasten = atze1978
Schweinezucht = Marhu
Gate mit Mauern = Cosmin 123
MapSiloBand = Marhu
Straßenset = Goodgod
WasserMod = Marhu
Industrieanlage = LWS Terminator
Metzgerei = SLJ Agrar
Brauerei = GE Mapping
Steinplatten Set = The Agraama
Pferdehof = Aerocool1
Leitplankenset = LS Landtechnik
Brennerei = Landei
Binnenschiff = Himmi
Edeka = Mark 44
Leitpfahl = Basti66
Sky = Kieler 81
Rolltor = GE-Mapping (?)
Strommasten = MartinBigM 500
Landhandel = Papa
Stromset = kann ich nicht mehr finden
Weidentore = Weltbauer
Weidenzaun = Weltbauer
Futterlager = Frisco0177
Brücken = Mach1-Andy
Rindermast = Marhu
Wollpalettensammler = Marhu
Bäckerei = GE Mapping
Orginal Link: Download mod