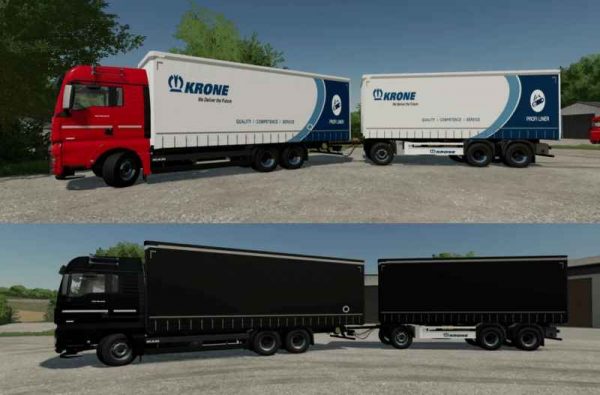 Description:
This pack includes 2 trailer tandem and turntable. There is also a truck.
Version 1.2
lights fixed
Added lamp configuration
The models were all equipped with autoload.
You can load 12 or 24 pallets.
Can be set via configuration.
All the functions of the Profiliner are included.
The autoload mod from Achimobil is absolutely necessary
Thanks to Pascal from BDModding for the lamps and lamp brackets.
Suggestions, errors or other abnormalities are welcome and will then be taken into account or rectified. LOG is free of errors
The mod may be uploaded to other websites. As long as the original link is used!
Authors:
Idee: EWW_Bobo, BigDaddy
Umsetzung: EWW_Bobo
Trailer Chassis: Alfredix
Trailer Konvertierung: EWW_Bobo
Unterstützer: BigDaddy, Achimobil, Pepperonie
Lampen und Lampenbügel: BDModding