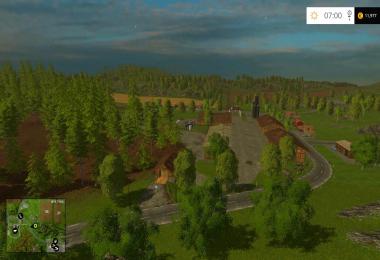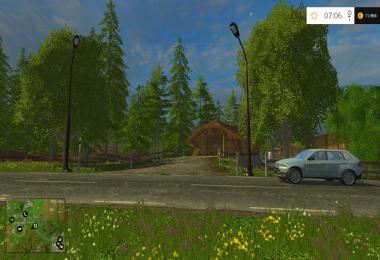 This is my edit of Giants original map Bjornholm. I have moved and rearranged the main farmyard so it's now situated where the cows are and I also added some machinesheds to park your vehicles and equipment in. In the cowarea there is now a shed for your hay and strawbales incase of thunder, rain and lightning. I have also moved the sheep pasture and chickens closer to the farm for practical close farming. The map holds the regular crops.
The area of the old farm is cowered with grass which makes it perfect for mowing grass. Theres a mound of stones in the middle of the field, the legend says that an old chief of the rich Götene Vikings lay buried…perhaps you can find a treasure…?
The landscape around you farm has been beutified with more trees and bushes. For all your dirty equipment theres a newly constructed washing area just outside the farm that gladly suits one or more of your highpressure washer from Kärcher, and don't you worry the spillwater is properly taken care of.
All the main features of the original game has been kept, missions and buyable fields. I have moved some of the coins, try if you can find them all. You start with one large field that is ready for harvest. You have enough farmingequipment and vehicles to get you started in your carrier as a farmer. The silos is also filled with sellable crops that should earn you a nice sum of cash to further invest in your business.
——————————————————————
I'm a beginner when it comes to editing maps so if you come across any erros please post them in the supportthread. However all major gamefeatures has not been altered with and therefore shall work as in the original game!
—————————————————————-
You may edit the map to your liking and upload it to FS-UK whitout my permission. It would be nice if you credited me so I can benefit and get inspired from your edits.
This edit of the original map may NOT be uploaded anywhere else whitout my specific approval.
Authors:
The original map made by Giants. All the editing is done by me, NoobFarmer.