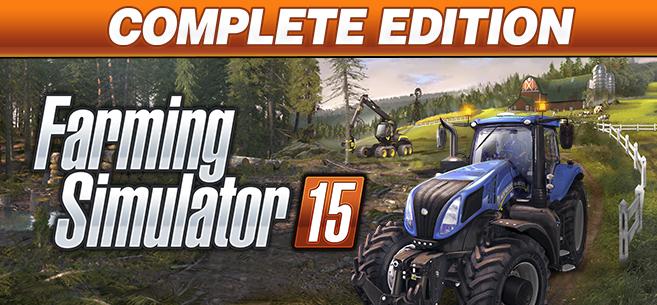 Farming Simulator 15 – Complete Edition lets you manage your own farm within immense open worlds filled with details and visual effects. From harvesting to animal husbandry, and from the sales of fresh products to woodcutting, the benefits of your labour will allow you to develop and invest in new, more powerful vehicles and tools. Across hundreds of acres of land offered by each of the three available environments (East-European, North American, and Nordic) use and drive over 240 authentic vehicles and farming tools from over 60 famous manufacturers: Case IH, Deutz-Fahr, HOLMER, ITRunner, JCB, New Holland and more. In multiplayer, invite up to 6 friends to help you develop your farm.
Farming Simulator 15 – Complete Edition contains the original game Farming Simulator 15 plus all DLCs, giving you access to a huge variety of official vehicles and equipment. This bundle includes the following content:
Farming Simulator 15 Gold Edition
ITRunner DLC
JCB DLC
New Holland DLC
HOLMER DLC
Farming Classics DLC
Lamborghini Nitro 120 DLC
Rostselmash Niva DLC
Mod Pack DLC
Farming Simulator 15 – Complete Edition is available for download today on PlayStation 4 and Xbox One.
Authors:
Farming simulator