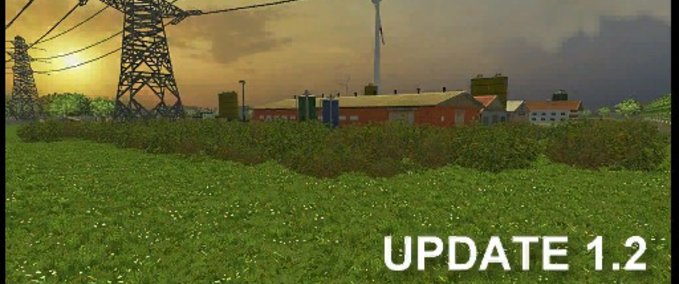 Kreis Unna Map
The Unna district located in the center of North Rhine-Westphalia in Arnsberg. Farm and its surroundings are Originated from free imagination
The farm located on the map is modernly furnished and accommodates good modern agricultural machinery with which you can meet the requirements to become a successful farmer and for the district of Unna's largest supplier. In addition, amenities 27 Large to medium-sized fields for farming near your yard. A workshop, cow pasture, sheep pasture, pasture chickens and cattle and pig sty complete this farm.
With an additional 10 greenhouses where tomatoes and lettuce grows, more revenue for the company funds are guaranteed. But only if there is enough water for the flourish of these plants in the tanks is present. The equipment for the plant breeding department are housed on-site in a tool shed. A small water fountain is also available.
Note to Mods on the map.
The following mods should not be present in your mods folder:
DamageMod = SchadensMod of (rafftnix, Maxter, model Eicher)
BankOfHagenstedt = The Cooperative Bank of Hagenstedt (MX11)
Mixing station = animal feed mixing station of (Marhu)
Silo Sales = silo contents sell directly from (?)
PDAfix = PDA expansion of (Marhu)
BuyManyAnimals = Fast shopping from animals of (?)
* (?) I do not know who wrote this script, who again please detects contact me, I'm wearing it then.
Who plays the Unna district map, should know that not all mods should be located in the mod folder that are not purely because it could cause problems depending on your computer performance.
I play games and tests are this map a few months and there are no problems, according to me known log.txt. If I invite Traffic mods or other not necessarily common mods in the mods folder, there were always problems with the game stuttering and other unknown problems.
My computer is not the youngest, but when I play according to my information above everything runs fine.
Built include 15 fruit species, which should be enough. I do not know whether, for example, for peas there Erntemschinen and sometimes not at all for rice.
Since it is my first map I've made for Farming Simulator 2013, I hope not to harsh criticism of you, but this is like Welcome.
I hope you like it,
Have fun wishes you Bemak
Authors:
Bemak